What is The Bolt Card?
The Bolt Card is a physical card that you can tap to pay via Lightning in person or on a website on your phone.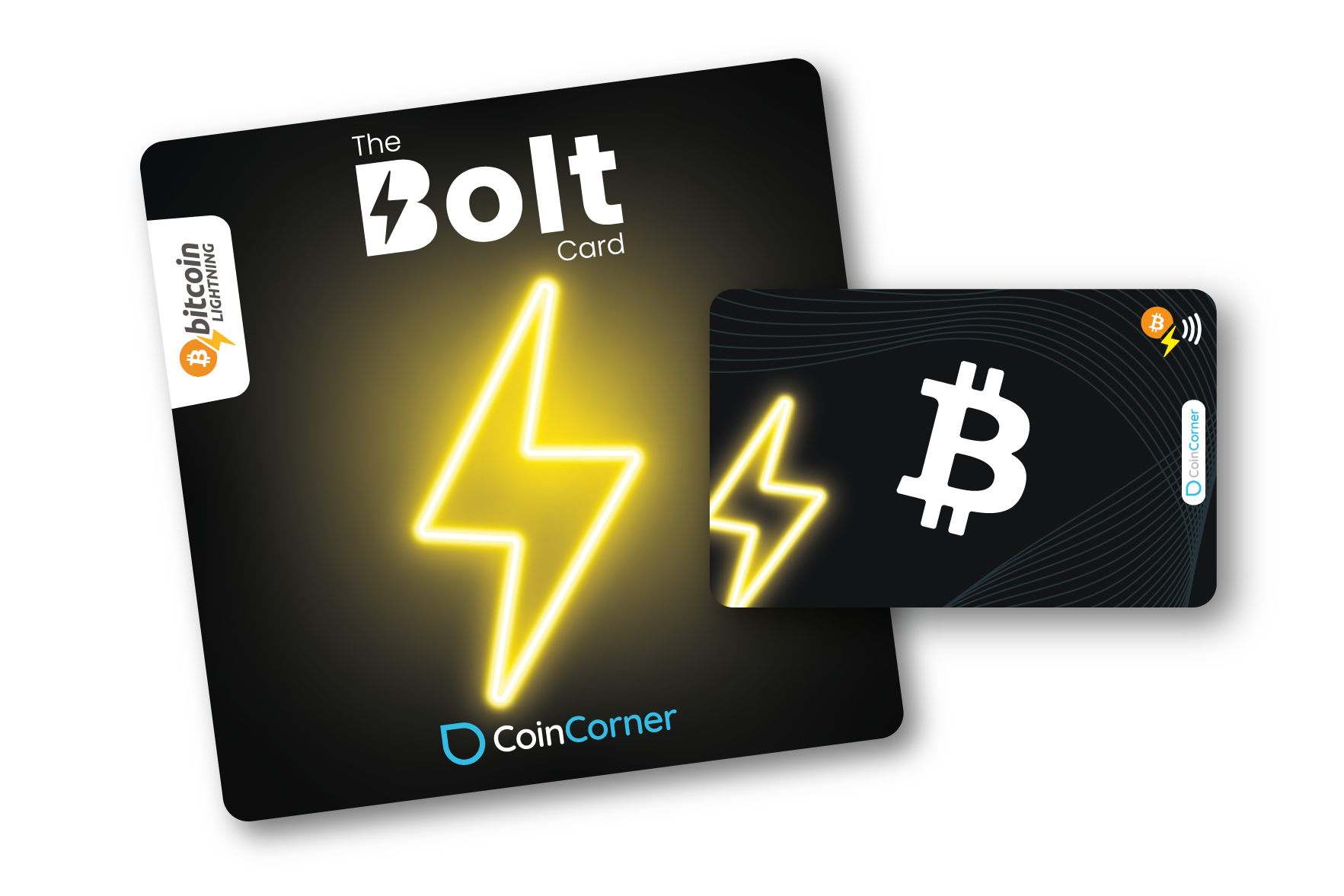 How does it work?
Follow these steps:
1.
Order
The Bolt Card today
*sold & supplied by MtSocks, a group company
2.
Once it arrives, setup your card in the CoinCorner app (if you're not a CoinCorner customer, check out our
setup guides
)
3.
You're ready to spend, share or gift The Bolt Card!
FAQs
Do you have any questions about Bitcoin or our services?
The Bolt Card is a contactless Lightning card, powered by NFC and the Bitcoin Lightning Network.
Using a standard NFC card, the Bitcoin Lightning Network and LNURL, The Bolt Card enables a user to simply tap their card on a point of sale device displaying a Lightning invoice and the Lightning payment is made in the background. This transaction is carried out over the Bitcoin Lightning Network with not a single legacy payment system used.
The Bolt Card is one card with multiple uses!

Debit card
Use the CoinCorner app to connect The Bolt Card to your CoinCorner wallet and spend with your card like you would a debit card attached to your bank account.

Gift card
Use the CoinCorner app to set up The Bolt Card as a gift card for family or friends. The recipient can tap the card on their phone (NFC) and sweep the bitcoin into their own Lightning wallet.
Yes, The Bolt Card is compatible within current industry protocols, namely Lightning and LNURL, which means it's easy for other payment gateways to introduce the NFC capability to interact with The Bolt Card.
Yes! The Bolt Card is available to everyone but some features (e.g. debit card functionality) are only available to CoinCorner customers. Not yet a CoinCorner customer? Sign up today.